2016 Spring Trend Round-Up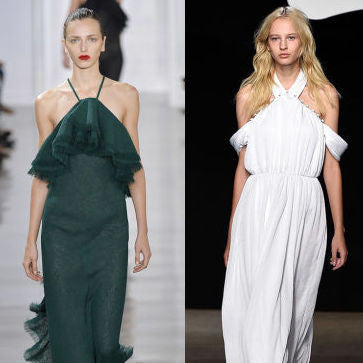 We've recently returned from our buying trip in NYC, and although we're still in awe & totally girl-crushing over the killer winter menswear vibes, we are so excited for this Spring's trends; a little hesitant about some, but eager to try nonetheless, that's what fashion's about right? We've rounded up some of our favs to get you ready for the warmer season, don't blink it'll be here before you know it!
Remember this?
That's right, the Canadian Tuxedo is making it's comeback; just maybe not as intense as JT & Brittany's ;) Get ready to break out those funky washed crops and unfinished hemlines from your middle school past; think denim on denim on denim. The key to this look is easy, neutral, accessories, such as a nude pointy heel or soft camel handbag.
Kate knows the deal ;)
 Next stop: 70s baby. Suede's here to stay through Spring my friends, as it seems to be the fabric of the decade. Soft shifts & skirts done in Pantone's oh so fab pastel hues will be your go-to pieces this season.
 2016 Spring also pays homage to the Victorian area; High collars and neckties in all-floral-everything patterned blouses were seen everywhere.
Dare to bare the shoulders? A unique and ultra flattering 'X' neckline replaces last years off the shoulder blouse, for a chic and sophisticated silhouette in tanks and maxi dresses.
What are some of your favorite looks? Comment below and let us know!
xoxo Meg
|
Posted on January 14 2016
3 comments
I Love the Soring suede too! Beautiful pastel blue and mint greens!

Love the denim with neutral accessories!

Love that suede is staying for Spring! Can't wait to see it in lighter, Spring colors!