Gifts For Every Momma!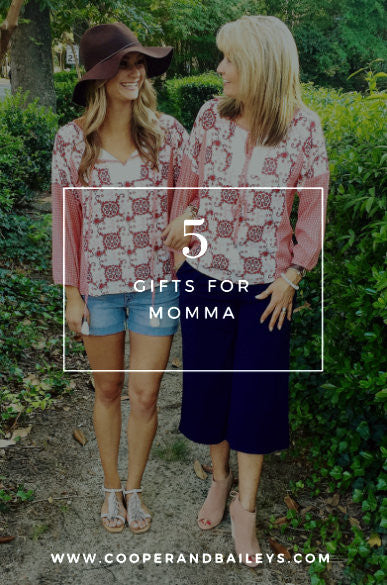 We've rounded up a few of our favorite things for you to become the favorite child on Mother's day!
"I'm not like the other moms, I"m a cool mom." Get your trendy maker one of our favorite new statement pieces!
Maybe you've been in the doghouse lately with mom...this option's for you. Give mom the Classic gift of a Daniel Wellington watch. Rose Gold or Silver, simple, chic faces, with leather or nautical wristbands, all interchangeable. 
Here's an idea: spend the day with your favorite gal getting pampered with mani-pedis then head over and give her these to slide into ;) We've got amazing sandals she'll love!
The no-fail accessory gift that's sure to please. From elephants to fringe we've got a little something your momma's wardrobe's been missing.
A gift EVERY mom will love. Our best selling and heavenly smelling Capri Blue candles are a no-brainer.
|
Posted on April 26 2016