See The Good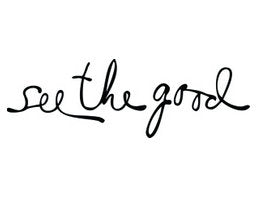 For our first trip to Atlanta Gift Market, although we had no idea what we were doing (totally different than Apparel Mart), we knew we wanted gifts with good intentions. Gifts with background depth, gifts that give back, gifts with purpose. Gifts that give you the warm & fuzzies when you're buying them.
Enter Mangiacotti: An Eco-friendly line of amazing hand & body products. Trust me, I'm the last person to freak over a tube of hand lotion but I'm here to tell you this stuff does wonders for your cuticles. More importantly, founder of Mangiacotti, Michelle, wanted a company she could really feel good about. When the company was founded in 1998, Michelle honored her aunt with Down Syndrome, by helping others with disabilities gain employment and a sense of independence. All of Mangiacotti products are packaged and finished off by citizens with disabilities. YOU'RE THE BOMB MICHELLE.
Any of you who know my mother and I, understand that at this point in the showroom we needed wine and Kleenex. Pull it together ladies. But seriously, how awesome is the concept? In middle school I was a Teacher's Assistant for a Special Ed class and I've never experienced anything more soulfully fulfilling. It was an automatic no-brainer that Cooper & Bailey's would carry the brand, and hopefully participate in Michelle's 'See The Good' campaign in the future. 
See The Good's foundation lies in the idea that "banded together we are stronger than we are individually." See The Good seeks to recognize the good, in hopes of a chain reaction of kindness. Anytime you see a #seethegood hashtag, see how you may be called to help either that organization, or another. The movement seeks to create a wide community of individuals who #seethegood in others & wish to promote just the same. 
 Now get your butts in here, buy some bomb.com lotion and #seethegood!
|
Posted on August 24 2017
1 comment
Awesome! I love your heart! What a great concept!